We're Focused On Client Service
Our focus is on client service.
Our strength is extensive practical experience and dedicated associates. Our goal is to maintain a high standard of professional excellence.
At Savran Benson LLP, located in Bala Cynwyd, Pennsylvania, we help our clients succeed by providing tax consulting and compliance, business advisory and accounting, matrimonial litigation support, and estate planning services. We have specialized industry experience in family businesses, real estate, and health care and other professional service organizations. The decision to focus our expertise has allowed us to broaden our client base in areas of practice strength. As we develop more opportunities, we are able to share experiences and practical knowledge to benefit these practice areas.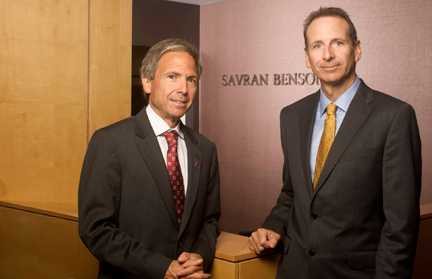 Founded by Steven C. Savran and Mitchell E. Benson,
Savran Benson LLP was formed on January 1, 1985. In addition to the founding partners, Savran Benson has two additional partners – Adam M. Poutasse and Michael A. Casey. The Firm's staff includes eighteen full and part-time accounting and administrative members. Our partners and some of the staff began their careers with national accounting firms both in audit and tax divisions. The Firm is a member of the Private Companies Practice Section of the American Institute of Certified Public Accountants and has successfully completed all of its required peer reviews.
We frequently are presenters at continuing professional education seminars and write articles that allow us to continue to sharpen our skills and expand our reach. The partners and staff take a personal, as well as professional interest in their clients. We combine technical ability with initiative as we serve our clients with the highest quality of professional skills and are effective and efficient in the process.
Giving Back To The Community
We strive to give back to the community through active participation and leadership of civic organizations such as Legacy Youth Tennis and Education, Big Brothers Big Sisters Independence Region, Family Support Services of Philadelphia, the Anti-Defamation League, Cradles to Crayons, and Intercommunity Action, Inc.